Stephen Mansfield is a New York Times bestselling author and a popular speaker who is becoming one of the nation's most respected voices on religion and American culture.


Stephen was born in 1958 and grew up largely in Europe due to his father's career as an officer in the United States Army. After a youth filled with sports, travel, and mischief, Stephen was recruited to play college football but turned down the opportunity when a religious conversion moved him to attend a Christian college.


He earned a Bachelor's degree in history and philosophy and then moved to Texas where he pastored a church, completed two Master's degrees, hosted a radio show and began acquiring a reputation as a popular speaker of both depth and humor. He moved to Tennessee in 1991 where he again pastored a church, did relief work among the Kurds in Northern Iraq, served as a political consultant, and completed a doctorate.


It was during this time that he also launched the writing career for which he has become internationally known. His first book on Winston Churchill was a Gold Medallion Award Finalist. He also wrote widely-acclaimed biographies of Booker T. Washington and George Whitefield as well as a number of other books on history and leadership. In 1997, the Governor of Tennessee commissioned Mansfield to write the official history of religion in Tennessee for that state's bicentennial.


In 2002, Stephen left the pastorate after twenty fruitful years to write and lecture full-time. Not long afterward, he wrote The Faith of George W. Bush, which spent many weeks on the New York Times bestseller list.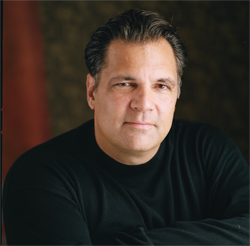 Mansfield followed this successful venture with The Faith of the American Soldier. To research this story of religion on the modern battlefield, Stephen was embedded with U.S. troops in Iraq at the beginning of 2005. His experience at the frontlines and his research on faith among soldiers forms the core of this important book which has been used in military academies around the world.


Stephen has also written a widely-praised book on the new Pope entitled Benedict XVI: His Life and Mission. Mansfield is a Protestant with deep respect for the legacy of John Paul II and he sought to explore how Joseph Ratzinger might fulfill this legacy in the years to come. Publishers Weekly has called the book "an inviting study of a new world leader."


Mansfield's latest work is The Faith of Barack Obama, intended as an objective look at Obama's religious life and the controversies that have surrounded it. Stephen believes that just as the archetypical American story of faith five years ago belonged to George W. Bush, now it is Obama's religious journey that captures many of the religious trends shaping American culture. The book reflects Mansfield's ability to compassionately describe theological and political views that are not necessarily his own, an ability he movingly demonstrated in his book on the life and views of Pope Benedict XVI.


Beyond his writing career, Stephen has founded The Mansfield Group, a successful consulting and communications firm, as well as Chartwell Literary Group, a firm that creates and manages literary projects. In recent years, Stephen has also become a widely-popular speaker, known for his rowdy humor, his deep faith and his ability to inspire audiences with tales from great lives of the past.


He lives in downtown Nashville, Tennessee, with his beloved wife, Beverly, just blocks from the beautiful Nashville library and the state capitol.